Published on March 12, 2021
–
Updated on September 14, 2021
CY Entreprendre, winner of the project of excellence Esprit d'entreprendre call for proposals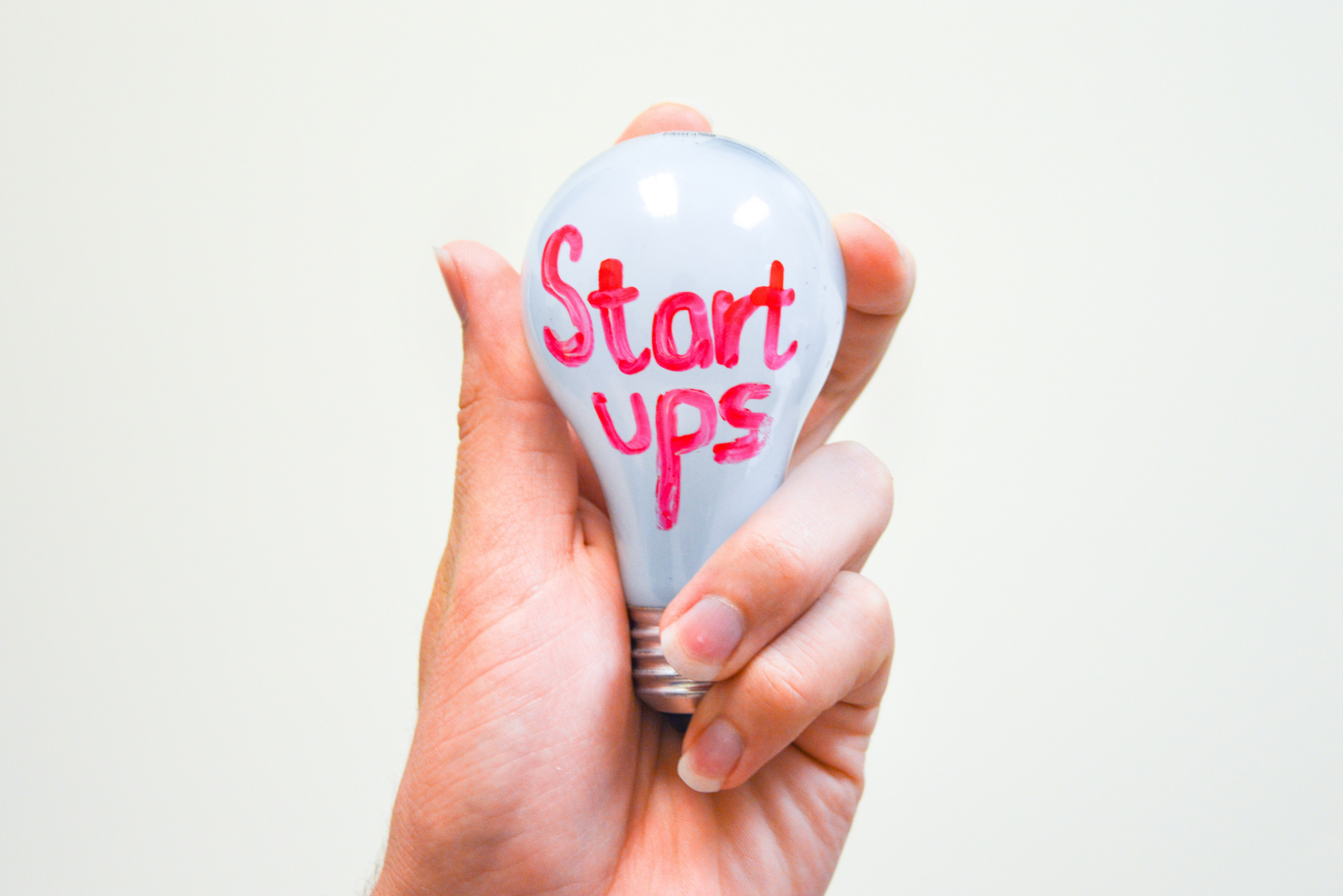 On December 18, 2020, the French Ministry of Higher Education, Research and Innovation published the results of the Esprit d'Entreprise call for proposals intended to finance the most ambitious development projects for France's small and medium-sized enterprises (PEPITE) for the years 2021-2022. The project, led by CY Cergy Paris University, is one of the nine projects of excellence out of the 35 projects submitted. It's a very positive result for CY Alliance. Below, a discussion with Sandrine LE DÛ - Director of Entrepreneurship and Deputy Vice President in charge of Entrepreneurship at CY Cergy Paris University to learn more about this project and more broadly about CY Entreprendre.
Can you tell us more about the winning project of the Esprit d'entreprendre call for proposals?
Launched on June 15, 2020, this call for proposals, aimed to mobilize as many higher education establishments as possible through their PEPITE so that they succeed, with their regional partners, in scaling up significant numbers of students sensitized and initiated to the entrepreneurial spirit and entrepreneurship. This is how we presented the CY Entreprendre project, CY's PEPITE programme, but that is not all.
For more than 5 years, entrepreneurship has been part of the overall strategy of CY Cergy Paris University and the schools of CY Alliance, notably through the PEPITE Vallée de Seine programme. With this call for proposals, the objective is to grow the entrepreneurial ecosystem in the alliance and in the territory in order to support and train more and more students to the challenges of business creation and entrepreneurship more broadly. With CY Entreprendre, there is now a potential of 45,000 students in 11 establishments who will be able to benefit from the support of the PEPITE programme as well as from the resources made available by CY Entreprendre and its dedicated team.

The heart of the call for proposals is to educate some 31,000 students and support 40 new business creations per year, relying of course on all the CY Alliance establishments. The objective is to instill the entrepreneurial spirit to a majority and to all types of students, to improve the recognition of the skills developed in this context, to promote innovation and accelerate entrepreneurial projects with socio-economic actors in the territory.
And concretely what does that mean? What measures will be put in place?
CY Entreprendre is based on a tripartite concept: to show, so that everyone is informed and aware of the Entrepreneurial Spirit in regards to both possible support and pedagogical paths; to train, so that any training needs in the field of entrepreneurship / intrapreneurship are covered; to live an experience, so that the accompaniment, information and training are carried out in concrete immersion through third-place spaces and workshops throughout the territory.
This triptych concept thus integrates the four key stages that make up the strength of the system: awareness, ideation, structuring and incubation.

More specifically, CY Entreprendre aims, for example, to integrate the entrepreneurial spirit into the LyLi network (Lycées-License), continuum Bac-3 / Bac + 3, by creating links at different levels such as interventions, presence of student entrepreneurs in high schools, raising awareness of the entrepreneurial spirit, .. and by promoting other forms of entrepreneurial commitment from secondary school, possibly via a high school student-entrepreneur model.
With the help of competitions and hackathons such as the Créathlon, CY Entreprendre also hopes to conquer more and more student-entrepreneurs and promote high potential projects.
CY Entrepreneur also works with CY Alliance schools to propose a generalisation of the use of internship substitution. At this stage, CY Entreprendre already offers students the Entrepreneurship & Innovation Curriculum, a programme of internship substitution proposed in partnership with Wenovia, a student support structure for innovation, entrepreneurship and business creation. The programme allows selected CY Alliance students to work for three months in multidisciplinary groups to define a problem and develop a solution that is both desirable (adapted to users' needs), viable (economically) and feasible (technically). Another substitution programme will also be launched in 2021. The objective here is to raise awareness among as many people as possible and thus "to show".

As part of the training, programmes dedicated to entrepreneurship and workshops will of course be developed and distance training in entrepreneurship will be set up. This project, named eMerkaat and co-funded by the Ile-de-France region as part of the Ile-de-France trophies for digital innovation in higher education, aims to build a real culture of entrepreneurship by raising the awareness of 25% of students each year, or around 10,000 students per year. This is a first step in the digitalisation strategy of the entrepreneurship training offer.

But entrepreneurship is also an experience. To do this, CY Entreprendre will offer support, incubation and acceleration programmes to support and push students' projects and help them get started. And this is only a small overview of the concrete actions we will implement.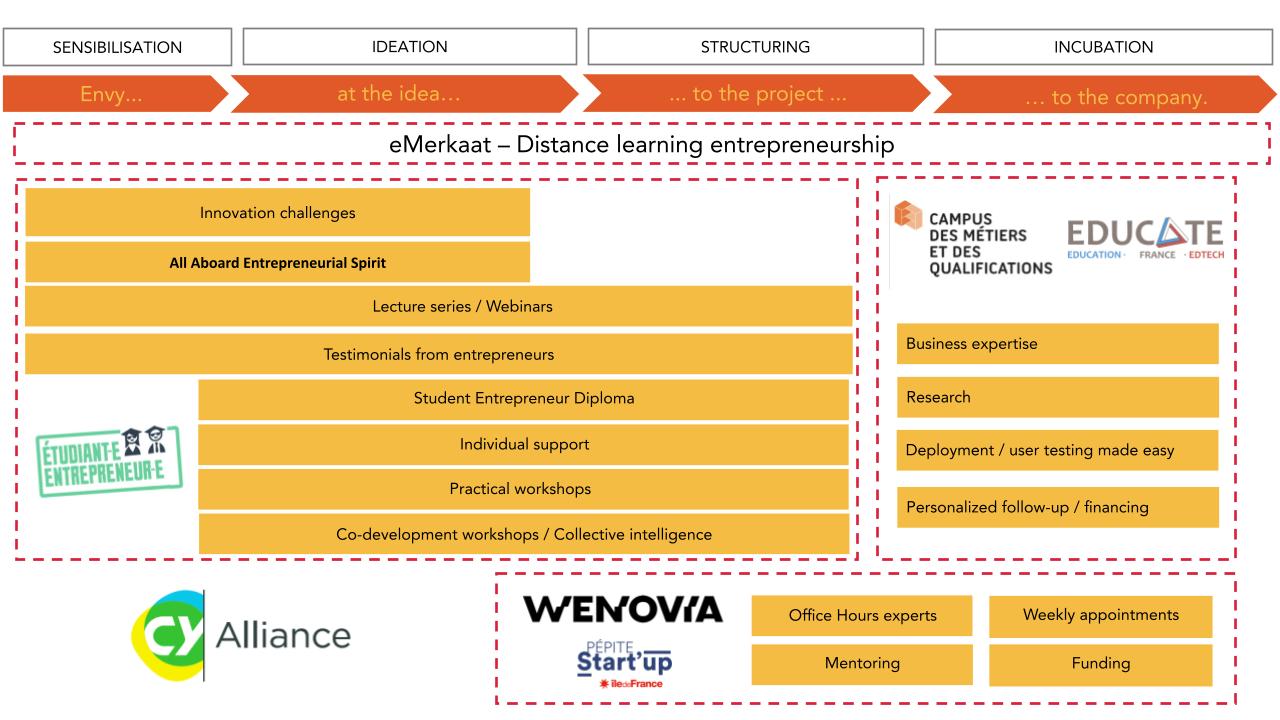 What place does research hold in CY Entreprendre?
We are going to work with CY Transfer, a transversal tool for the development of knowledge and technology transfer, to raise awareness among PhD students about entrepreneurship and the importance of working with companies. To do this, CY Entreprendre set up an annual "Create and Innovate" seminar for PhD students with the aim of getting them to work on a concrete project. During three days, around 30 PhD students, per group, have to define a problem and work on the development of a solution. At the end of the seminar, each group presents their project to a jury of professionals (entrepreneurs, BPI France, etc.). They do not necessarily have the codes of the company and the goal is to allow them to understand how to value their knowledge and that they are useful in the business world.
The objective is also to stimulate more bridges for student entrepreneurs with research laboratories but also with our international partners such as the universities of the EUTOPIA alliance.

Our role will also be to bring together the local economic fabric and the competitiveness clusters with our researchers. Creating links with companies is essential to enable the development of the entrepreneurial spirit in our territory and that will be our role.
What are CY Entreprendre's major projects for 2021?
The objective today is to mutualize actions around entrepreneurship within the CY Alliance with the help of a referent per school and shared tools.
At the same time, we will quickly implement measures to raise awareness and support students towards entrepreneurship. This will allow us to join forces and increase the number of student / entrepreneur statuses in the territory from 2021.
As part of our impact measurement and continuous improvement approach, we will also set up an external audit committee to have an external view on the actions and development of our PEPITE. The role of this committee is to obtain the opinion of external personalities on our trajectory and it will meet once a year.

CY Entreprendre in a few figures